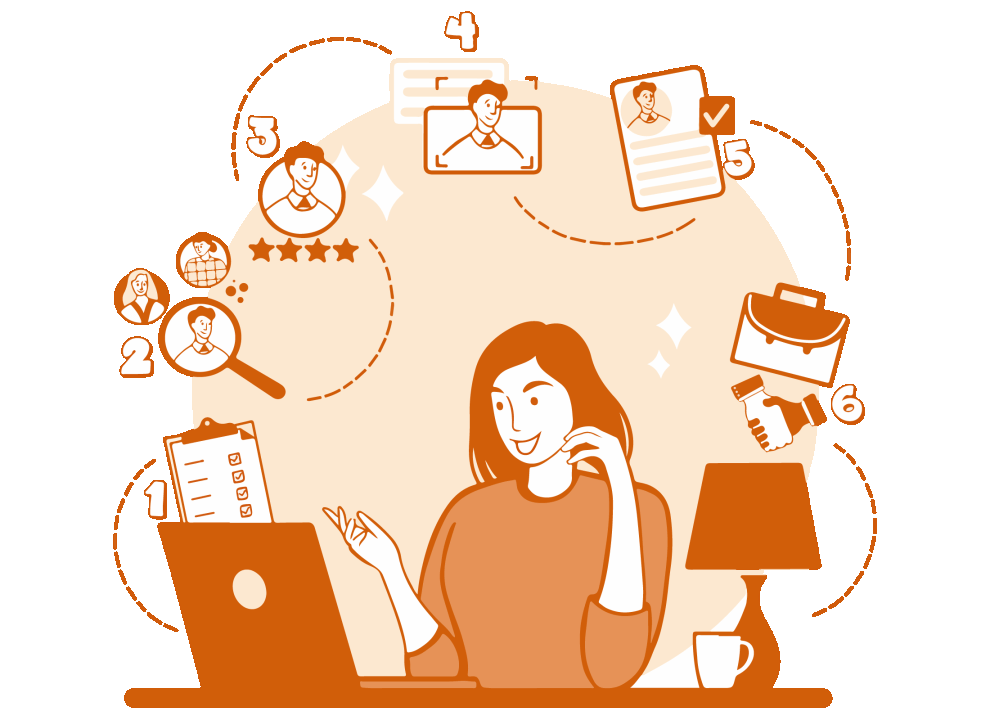 Full cycle recruiting can be described as the entire process of filling vacant roles. A recruiting process begins once the job position comes up for applicants and ends when a company decides on a new hire. Recruitment efforts that extend beyond conventional selection methods can help recruit better-qualified and more suitable employees.
One can often find full-cycle recruiters in small to midsized enterprises where hiring volume cannot accommodate skilled experts. Instead, the full-cycle recruiter is a jack-of-all-trades responsible for dealing with the recruitment process to fill an available career opportunity.

What is Full Cycle Recruiting: Everything You Need To Know
As we have previously discussed, full-cycle recruiting, sometimes called 360° recruitment cycle, is a comprehensive method to hire staff through all phases - from sourcing to placement.
HR specialists gather both applicants & employment offerings in order to communicate with all sides - job seekers and clients. Since they supervise the entire process independently, nobody becomes confused about their responsibilities, so all work is completed on time. Recruitment experts act as brokers, matching businesses and potential employees according to their compatibility.
In addition to possessing essential knowledge of particular markets, such agents tend to be experts in their fields. Furthermore, they can suggest applicants for vacancies that may not yet exist as their knowledge extends to the industry's needs.
The Full Cycle Recruiting Process
Briefly, full-cycle recruiting means handling the recruitment process end-to-end. As a system is complex, it comprises various phases. The end-to-end recruiting system has six levels: preparation, sourcing, screening, selecting, hiring, and onboarding. Let's delve further into the hiring process.
#1. Preparing
At the initial preparation stage, you should identify the ideal candidate persona . For creating such representations, consider listing the characteristics of potential candidates, along with their desirable qualities.
After doing so, begin drafting the job description. A concise overview of a job's responsibilities attracts potential applicants interested in applying. Aside from that, the job posting should outline the organization's branding, salary range, perks, and company culture.
#2. Sourcing
A source's arsenal of media tools is growing tremendously with the advent of social media platforms like Facebook and LinkedIn. Online and social sourcing can be enhanced through the use of technology.
Employees who are already on board have the potential to acquire promotions through changes in position. This will enable them to get onboard faster, retain more employees, and lower costs for recruitment.
Employee referral programs can be a great idea throughout the recruiting cycle because existing staff members could suggest applicants they know. Consequently, a business can develop an effective job-hunting environment within an organization.
#3. Screening
Spend time hiring an appropriate employee. This hiring stage, in my opinion, is crucial as it will reveal applicants with the necessary competencies in line with the job description.
In addition, that part of the recruitment process enables interviewing via phone, so you will obtain shortlisted candidates and may request a face-to-face interview afterward.
#4. Selecting
Choosing an individual possessing a sufficient balance of capabilities, expertise, and knowledge represents a significant aspect of the full-cycle recruitment process.
An applicant's vetting entails a bunch of steps, such as trials. Nevertheless, face-to-face interviews dominate the application procedure. References and testimonials from candidates should also be contacted for verification.
#5. Hiring
The LinkedIn investigation revealed a whopping 77% of opportunity seekers would rather get employment proposals via telephone. In many cases, job applicants will receive a message that contains an official job offer.
The job offer should outline all hiring details, including the starting date and working hours.
Occasionally, candidates refuse to take up a job offer right away; they may wish to discuss specific factors, perhaps, salary, before agreeing to the role. Detailed consideration, including proper attention, must be paid to this matter.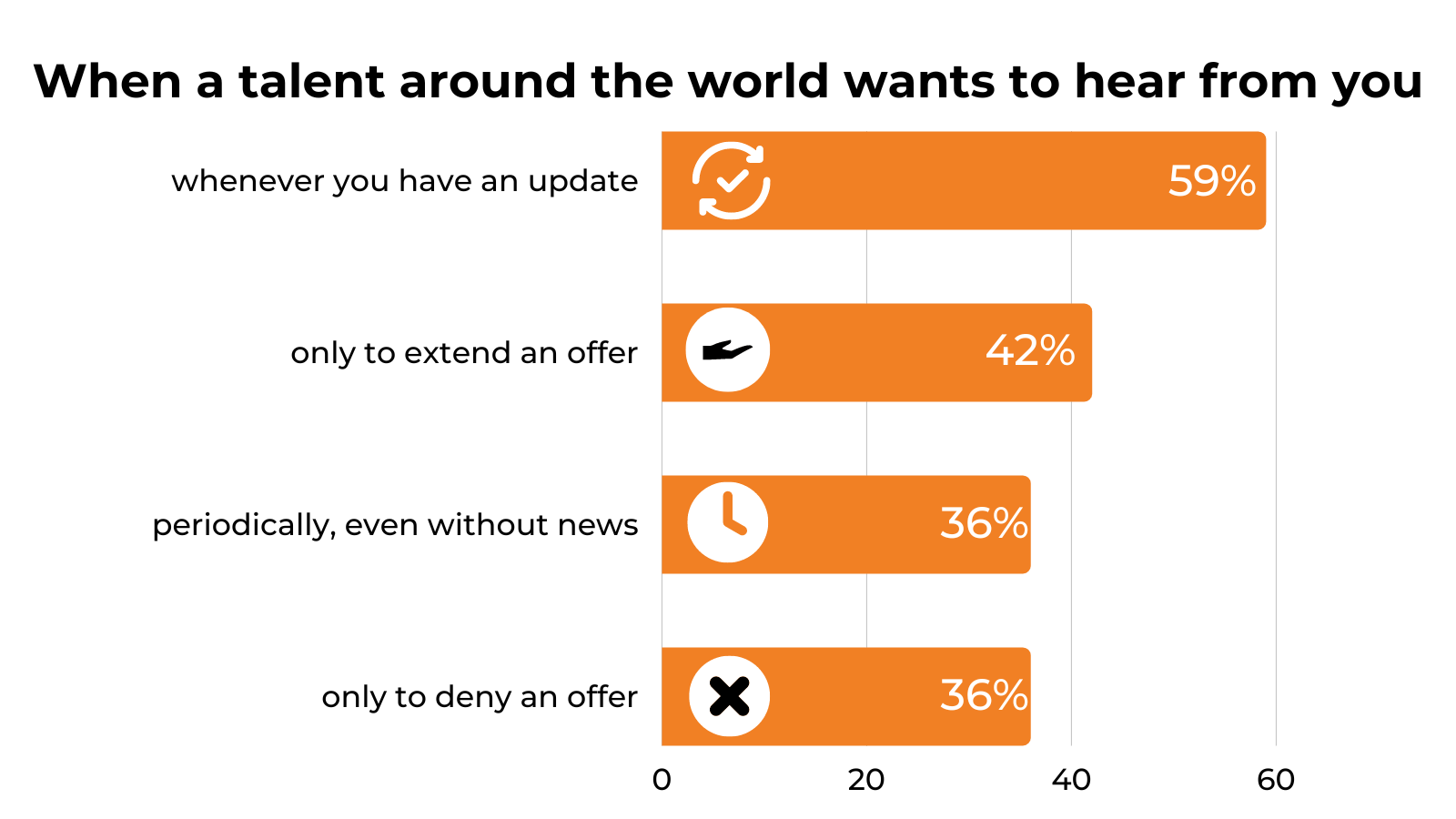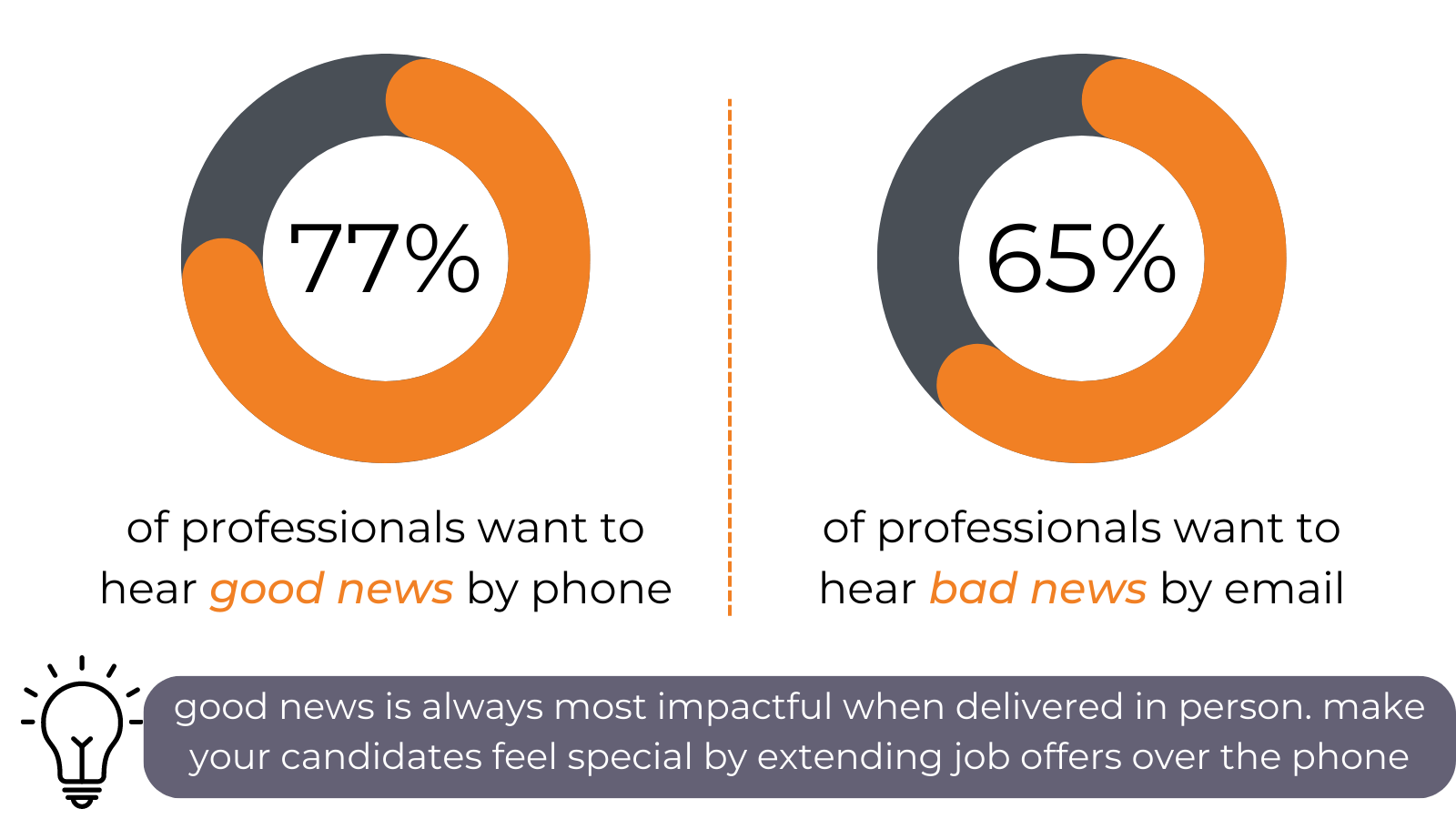 #6. Onboarding
As part of 360-degree recruitment, onboarding must constitute a key factor because it shows whether life cycle recruiting was successfully held.
New hires are entitled to a warm greeting and a sense of happiness up until the very beginning of the path. Prior to upcoming sessions, colleagues are usually introduced to each other. The onboarding phase offers a new employee a chance to become accustomed to newly assigned responsibilities.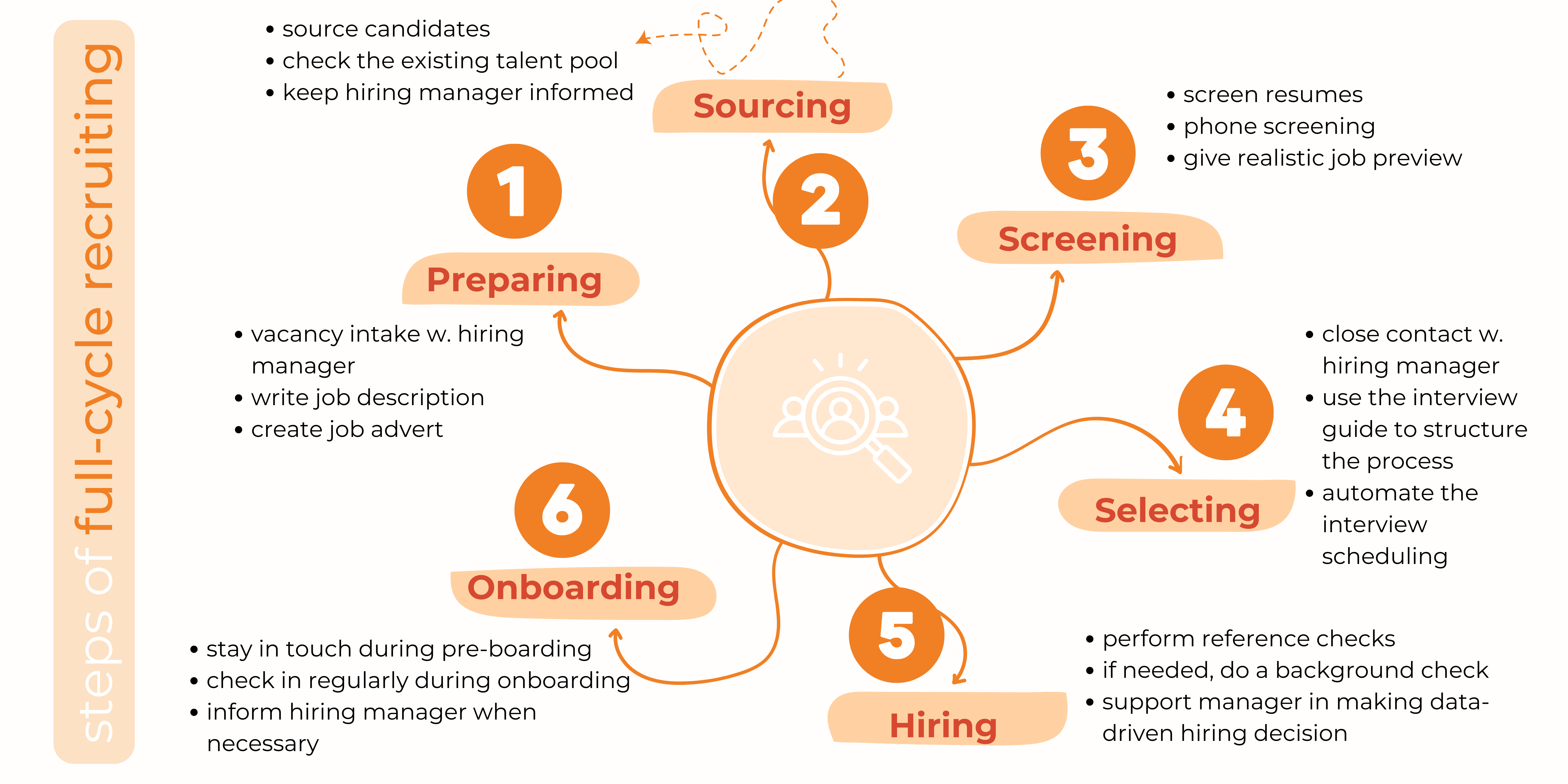 Who is Full Cycle Recruiting for?
Full-cycle recruiting occurs in various circumstances, whereas some are more prevalent, like:
Staffing agencies provide full-cycle services to businesses
Internal recruitment managers oversee the full recruitment cycle within a small organization.
Scenario №1: full-cycle recruiting agencies. Staffing firms specializing in talent pools (find, screen, employ) could assist enterprises with limited in-house human resources. On many occasions, outsourcing the entire recruiting process through an agency makes better sense than managing part of those tasks on-site.
Scenario №2: using internal full-cycle recruiters. It's common for small or medium-sized businesses to employ an in-house recruiter. An employee in this position has obligations similar to a full-cycle recruiting agency, however smaller in scope.
Benefits of Full Cycle Recruiting 🪄
End-to-end recruiting saves time and enhances the full life cycle hiring process with a number of useful features that would be interesting for any hiring manager due to attracting potential new hires.
Enhance accountability. Appointing the same person as a coordinator during a holistic recruitment process minimizes the possibility of causing delays. Hiring managers benefit from these responsibilities by feeling less exposed to losing capable workers due to others' mistakes.
Delivering a pleasant candidate experience. Single-point contact across the recruitment life-cycle might greatly enhance employee satisfaction. Candidates clearly realize who will be coaching them at any step of the application procedure. Instead of contacting multiple recipients concurrently with no idea who to call at a particular phase. This is very undesirable because, in a period of extreme stress for a new hire, the idea of interacting with different people on the hiring lifecycle could make the interviewee appear uncertain. Moreover, the hiring manager's participation in the entire recruitment process allows him to establish tighter bonds with prospective employees.🔐Having personal contact is key to improving both parties' experiences.
It took less time to hire. Generally, «time to hire» is measured as the period between the potential employee submitting an application and confirming a job offer. The so-called time to hire metric reveals insight into:

Recruiting efficiency. An inefficient, lengthy hiring process indicates unnecessary bottlenecks that slow things down.
Candidate experience. Employees prefer firms whose time to hire is roughly two weeks, not three months. Shorter time to hire - superior candidate experience.
Tips for a Full Cycle Recruiter
Despite the numerous perks of full-cycle recruiting, companies are still forced to rely on a single hiring manager or agency. Therefore, whoever hires must execute flawlessly. A couple of issues hiring managers should bear in mind are described below:
Aiding hiring managers is a must. An experienced full-cycle recruiter usually enters a game at the very outset, establishing a close partnership with the hiring manager. Such collaboration with HR upfront enables a full-cycle recruiter to accomplish faster with less effort. Simply put, showing immediate interaction with the full-cycle recruiter and hiring manager aids in identifying the ideal candidate, which should be carried through the full life-cycle recruiting process.
Technology is integral to them, so they must be technologically proficient. The full-cycle recruiting process is complex, so when one recruiter manages it all alone, they have to juggle numerous tasks. As a result, end-to-end recruitment requires additional expertise beyond just comprehension of current HR methods. A firm grasp of technology and an openness to implementing new tools are also needed for full-cycle recruiters to perform their duties more effectively.
Assisting during onboarding falls under their purview. The research report states, "typically, enterprises lose approximately 16% of new hires every month in their first 3 months." The quality of onboarding makes or breaks a decision whether to hire another worker or keep a highly specialized person initially identified. A team of competent full-cycle recruiters could prove useful. Important to realize! : HR's a representative «facing» of a company for those engaged in the hiring process, which makes it a stunner when someone they have led through the full-cycle recruiting process vanishes without a trace. Consequently, a full-cycle recruiter handling onboarding could assume the following duties:

Facilitate a smooth transition from recruiting to onboarding
Assist HRs in creating an enjoyable onboarding workflow
Eliminate anxiety by assisting candidates in tackling employment documentation
Stay in touch with workers for some time during their adaptation
How to Start with Full Life Cycle Recruiting?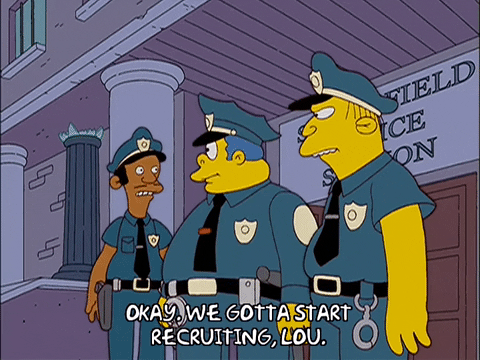 Outsourcing a certain amount of work is always a wise idea; conducting interviews through a special tool might be beneficial in the long run. Having someone handle full-cycle recruitment simplifies the hiring cycle conveniently in terms of sourcing candidates at a rapid pace.
A similar effect is quite simple to achieve via resume screening software , where responses from potential candidates are gathered at a single site. Thus, individuals unwilling to put forth a minimum effort can be filtered out, making job hunting quicker. Choosing an ideal candidate would not be a nightmare since links to submitted video questionnaires are accessible to colleagues. Hence, there is a chance to discuss who is most suited to a position and make a wise hiring decision.
Full-cycle recruiting has become more straightforward with Playhunt:
Full Cycle Recruiting FAQs 📝
Q: How do I learn Full Cycle Recruiting?
A: Learn how to apply all six stages of the full-recruiting cycle properly, and try utilizing a platform that can help you with this, no matter whether you are a cycle recruiter or a hiring manager.
Q: Are there any disadvantages to full-cycle recruiting?
A: There are always two sides. Among the disadvantages are: it may not fit all types of companies - it is better suited for small companies as well as specific positions; it requires a variety of different abilities - for one individual to master all these diverse skills might be overwhelming.
Q: What's the difference between the 180 and 360 recruitment cycles?
A: The bottom line is 360° recruitment encompasses the job seeker and client sides of employment simultaneously whereas the same duties overlap between 2 team members in 180° recruitment.