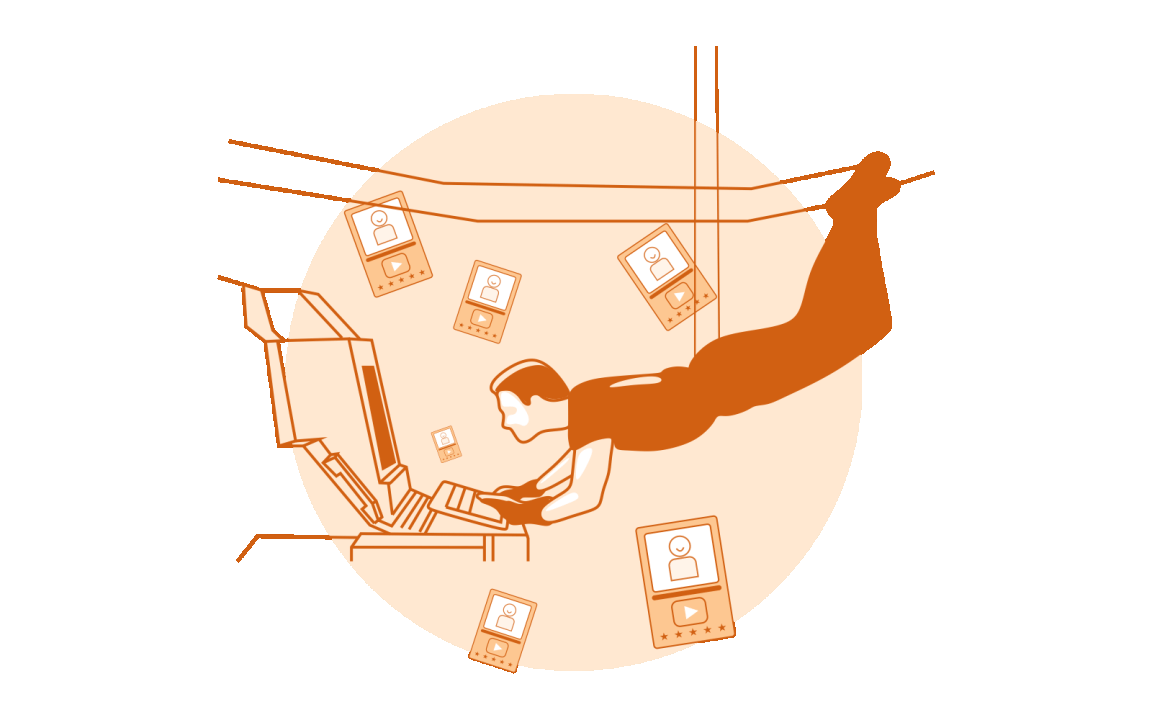 Have you ever felt that running a business is like crossing a river full of crocodiles on one leg while carrying a bag full of bricks? If yes, then you know there are dozens of things you always need to pay attention to, like attracting customers or dealing with taxes.
However, despite a wide range of concerns, the CEO's biggest challenge is talent hiring. If you have the same problem, don't worry, many companies are struggling with this. In May 2021, the number of job openings hit a record by rising to 9.2 million, by tradingeconomics.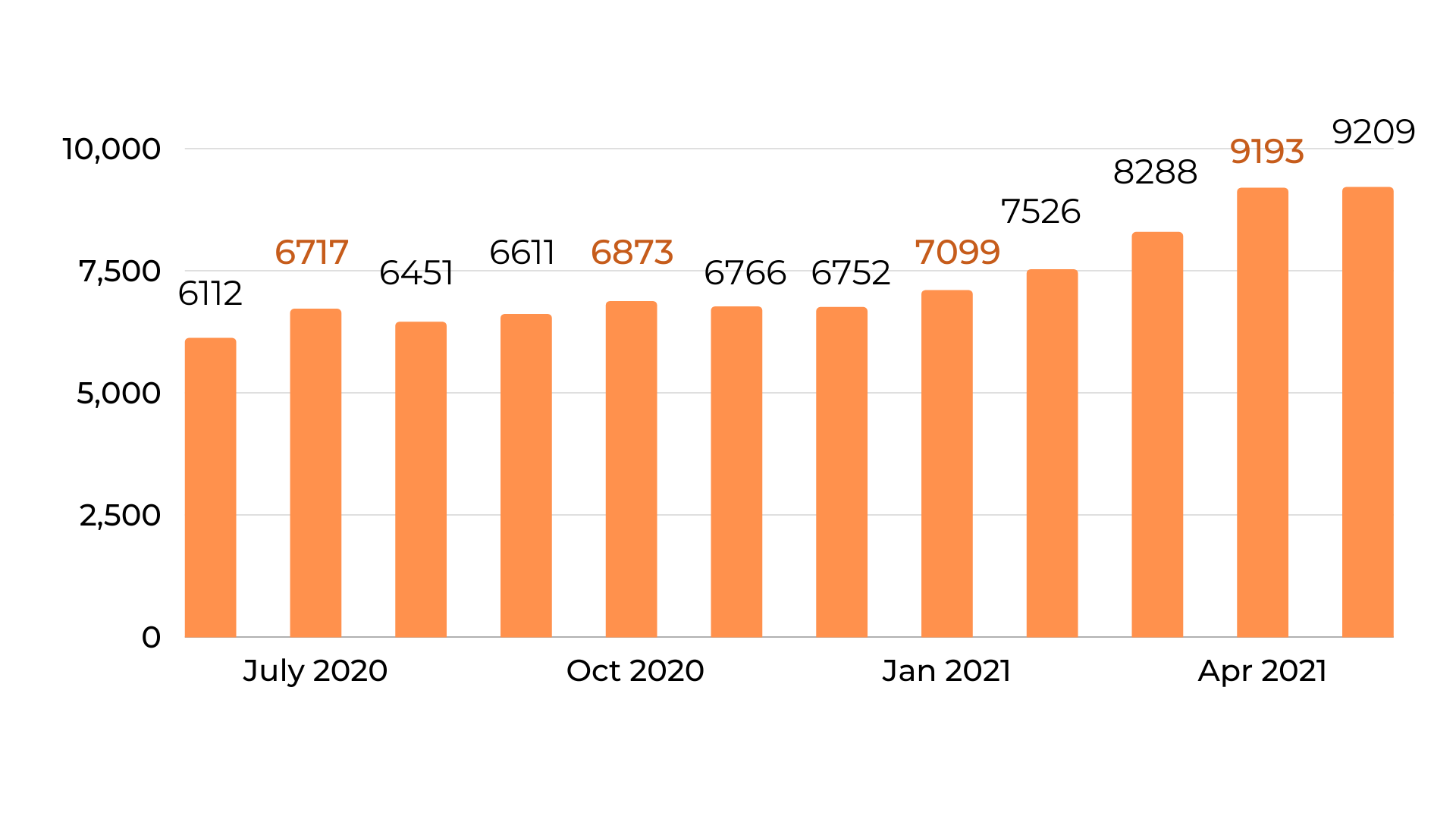 Besides attempts to hire professionals often ending up in failure, many such processes at one time might cost a company an arm and a leg. The Society for Human Resource Management (SHRM) proved that by surveying 2,048 respondents. The results show that, on average, one hire costs above $4,000 and more than 40 days. How to manage these challenges and succeed in hiring top-quality employees? Here is a list of six efficient steps that will help your business in this.
Work on your company brand
If your hiring target is professionals, then be ready that you should conform to the same level. A bad reputation leaves you miserable chances to hire high-quality employees. In such a case, even a higher salary wouldn't change the situation, as 50% of candidates would still refuse to work for a company with a bad reputation.
Always remember that candidates search for company reviews and ratings before deciding whether to apply for a job you're offering. According to Glassdoor, 86% of both employees and job seekers do that. Because of this, always ensure you know the reasons why employees would like to leave the company. Conducting an exit interview will help you in getting to know this.
Even if the employees of your dream are working for another company, there's a huge chance they would change their minds. Statistics show that 92% would think about changing their jobs for a position in a company with a perfect reputation.
Define your values
Even the most skilled professionals might not match your company if your core values differ. Therefore, you need to make sure you have clearly defined your company culture. Besides, you always have to check whether you succeed in translating them to your potential employees.
Obviously, your core values should be unique. This is what helps you to stand out in the market. However, there are plenty of valuable themes from which you can draw inspiration, like innovation, trust, quality, etc.
In case you didn't confirm your candidates are a good cultural fit, they might not only lower the productivity of your team but also leave the company soon. Robert Walters Whitepaper claims that 73% of professionals quit their job because of poor cultural fit.
Defining your company values must be a top-priority task as job seekers pay special attention to this aspect. Due to the statistics, 90% of candidates researched a company's culture before accepting a role. However, even if you take steps to make sure possible employers realize the values and culture of your company, do your best to make these words a reality. Because 67% of professionals claim they have been misled about company culture.

Take care of compensation & benefits
Job isn't only about money. It's much more about well-being, work-life balance, and, of course, perks. According to the Glassdoor survey, around 60% of job seekers claim that benefits are a significant factor to consider before accepting a job offer. Moreover, statistics also show that choosing between new or additional benefits and a salary increase, 80% of employees would prefer the first variant.
So, what kind of job perks would professionals like to get? The Fractl agency surveyed 2.000 American employees about their compensation preferences. They provided workers with a list of 17 benefits and asked them to rank it depending on personal preference.
Predictably, the top of the list is insurance (88%). What is more surprising is that there are such everyday benefits as flexible hours (88%) and more vacation time (80%) in the following places. Such statistics mean that employees would like to have some extra job perks, but at the same time, they still need some down-to-earth benefits. The good news is that you can easily provide them.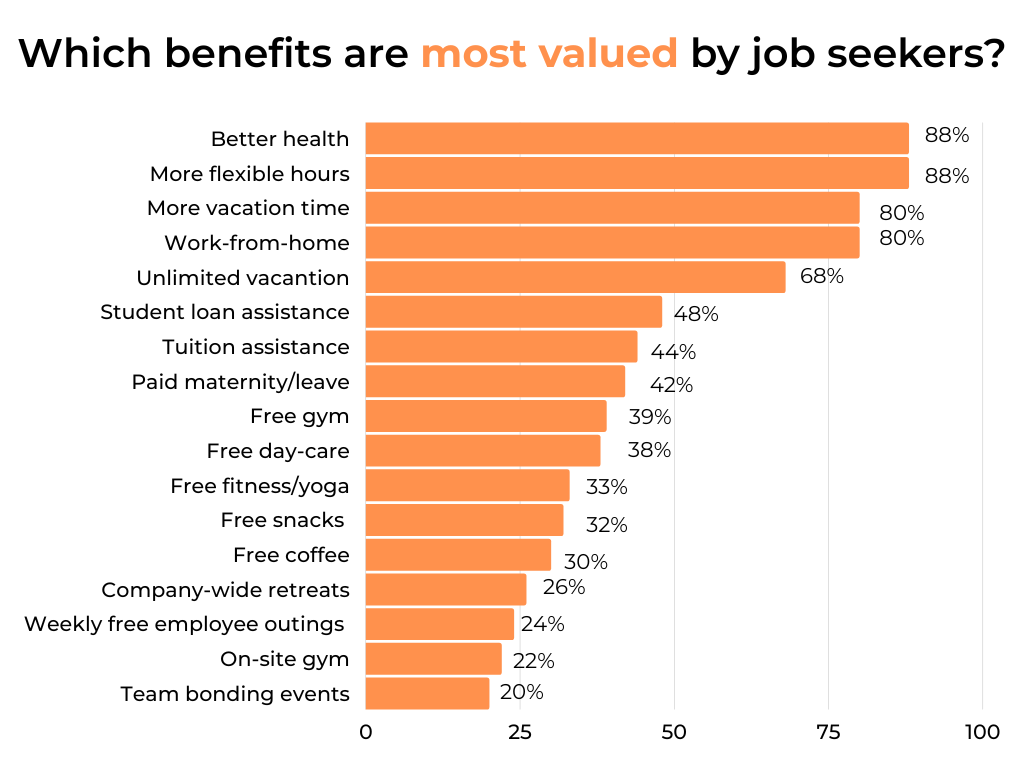 Use power of social media
Do you still use social media only for sharing photos of your cats instead of hiring professionals? Then it's high time for you to change this. Glassdoor states that 79% of job seekers use it while looking for a job. Therefore, if your company aims to hire proactive, high-quality employees, improving your communication with the audience through social media is a must-have.
It mainly concerns recruiting millennials, who, together with zoomers, are forecasted to make 75% of the global job market by 2025. Aberdeen Group's study shows that 73% of people of this generation found their last job through social media. If you'd like to have these people in your team, make the most of Instagram, Facebook, Twitter, and LinkedIn:
share quality content of all kinds;
run social media advertising;
participate in comments conversations;
join appropriate thematic groups;
engage your employees to share posts.
Conduct video surveys
Only about five out of 250 candidates reach the interview stage. That means the only thing job seekers can rely on is their CVs. Are you sure it's still a relevant HR tool? Instead of prescreening candidates based on a couple of paper sheets, check out their personality with the help of reliable video surveys, like Playhunt.
This solution is much less resource- and time-consuming than other interview forms. Compared to phone calls, it's six times faster. Besides that, one of its main benefits is that video surveys show real people with their emotions, thoughts, and desires. Moreover, using such technology proves your reputation as a modern and progressive company.
Implement referral system
The majority of professionals don't announce they're looking for a new position. Most of the time, their colleagues or industry peers recommend them some open opportunities. Therefore, a referral system is an effective way for you to get high-quality employees. There're a lot of benefits it could provide your company:
Brings more employees. Referred candidates are up to four times more likely to be hired.
Decreases time to hire. Compared to career sites, using referral systems brings new team members 55% faster.
Cuts down hiring costs. 55% of companies confirmed referral systems reduce their hiring expenses.
Reduces the turnover rate. In one year, the retention rate of referred employees is 46% which is 13% higher compared to career sites.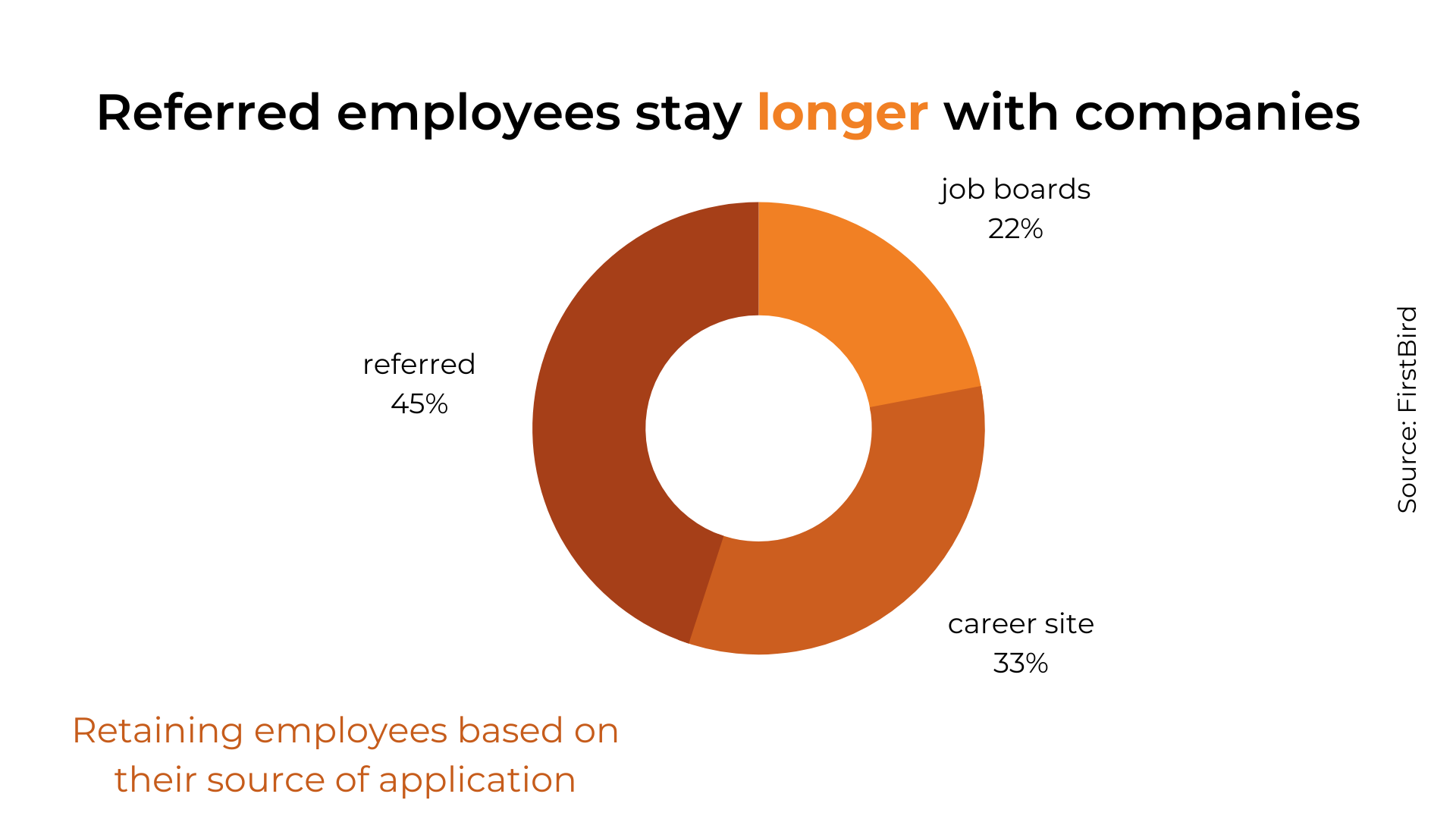 Hiring new employees is like falling in love. It doesn't work out because of one thing attracting any of you. It should be a total match. That's why if your company has excellent compensation and benefits but at the same time a poor company brand, most possibly it won't work.
Each of these tips increases the possibility of hiring professionals for your company. However, relying on only one or two of them doesn't guarantee success. The best way to gain it is to combine all of the tips.