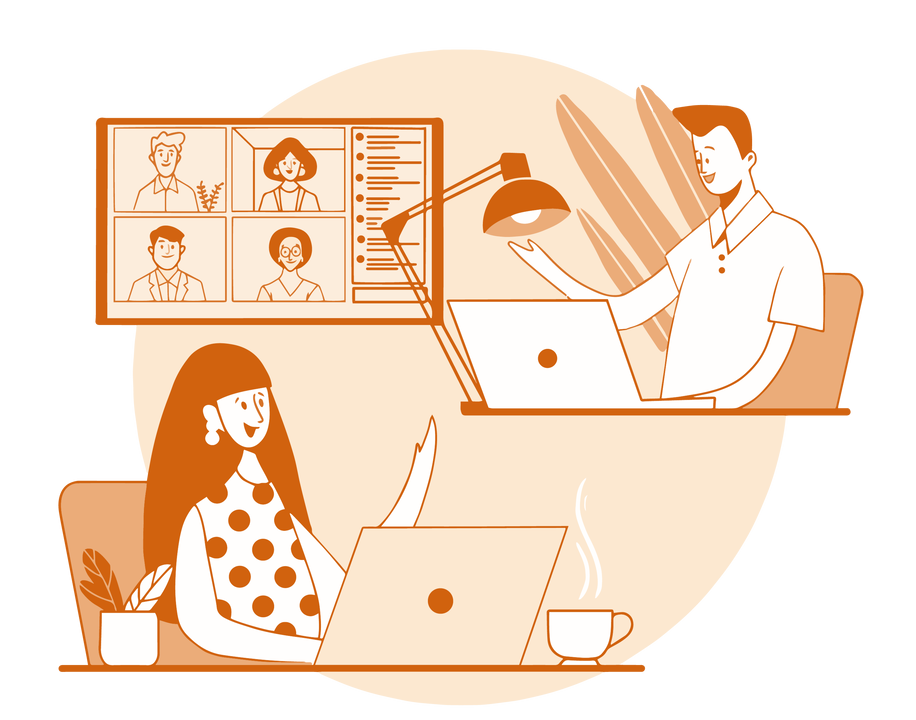 A job search can become an exciting experience, primarily due to an on-demand interview that is a type of one-way video interview. It's pre-recorded and typically used in the early stages of the hiring process to screen candidates.

Job seekers are prompted to record their responses to predetermined questions instead of interacting with a live interviewer and spending time on a traditional interview.
This solution is quite popular among modern hiring managers. It's useful for recruiting teams to hire successfully, achieve clearly set goals, and find all the necessary information without personal contact and at convenient times.
What is an on-demand interview?
An on-demand interview is a job interview in which the candidate records their response to pre-selected interview questions using a video recording platform.
The candidate is given a set amount of time to record the answers (unlike the in-person interview). These recordings are then reviewed and evaluated by the hiring team later.
On-demand interviews are becoming increasingly popular for remote job interviews or for high-volume recruiting situations where it may not be practical to schedule live interviews with all job seekers.
Such a solution can save both the candidate and the employer time and allow for more flexibility in the interview process.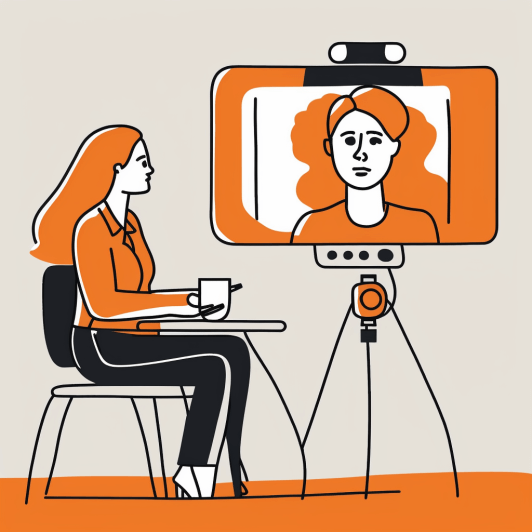 Why Do Businesses Use One-Way Video Interviews?
One of the main reasons businesses use on-demand interviews is to save time and money in the hiring process . Hiring managers can avoid scheduling conflicts and the need for travel expenses by allowing candidates to record their answers to on-demand interview questions on their own time.
The on-demand interview offers flexibility for employers and candidates. The first can review the one-way interviews at their convenience, and the second can record their responses when they have free time.
It helps to ensure consistency in the hiring process. Each candidate is asked the same interview questions, allowing for a more objective evaluation of their qualified talent and skills.

Recruiting teams can consider candidates from a wider geographical area, increasing the applicant pool and potentially leading to a more substantial candidate selection.
Candidates may appreciate the convenience and flexibility of on-demand interviews. It allows them to use the job opportunities and showcase their skills and qualifications in a more relaxed environment.
The on-demand interviews can streamline the hiring process, increase efficiency, and improve the candidates' experience.
What Technology Do You Need for Conducting Video Interviews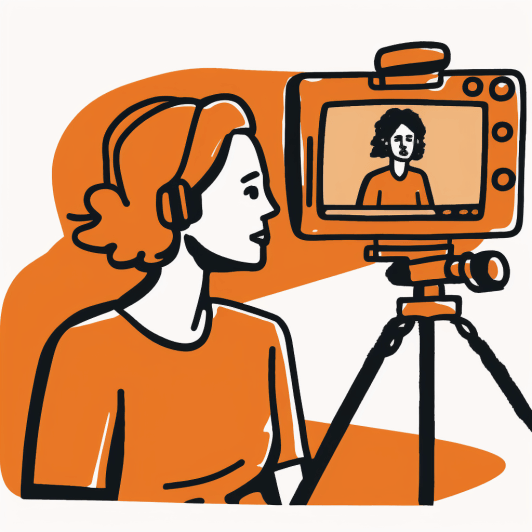 You will need the following technologies to conduct the on-demand interviews in a video format with one hiring manager or the hiring teams.
A person will need a computer or mobile device with a built-in camera and microphone. Most laptops, desktops, and smartphones have an inbuilt camera and mic.
Video conferencing software is also essential for conducting on-demand interviews. There are many options available for hiring procedures, including Zoom, Skype, Google Meet, and more. You can also use a well-known online solution among hiring managers, such as Playhunt , which helps you streamline your hiring process. Start to hire with the one you are comfortable with and that your interviewee has access to.
Ensure that your internet connection is strong enough to handle video streaming and that no other devices on the network could interfere with the interview.
Ensure that the room's natural light is sufficient for the hiring managers to see you clearly and that the backdrop is professional and not distracting.
Headphones can eliminate background noise and improve audio quality during on-demand interviews.
Top Video Interview Tips to Ace Your Next Interview
Test your technology

Testing your technology before the on-demand video interview is essential to ensure that everything runs smoothly during the interview.

Here are some career advice and valuable tips you can take to test your technology:

Check, in person, your internet connection speed and stability using a speed test website or app. Your connection must be strong enough for video streaming and an interview without interruptions.
Check your audio and video equipment is working seamlessly. Test your audio and video quality by making a test call with a friend or family member (or answering their calls).
Test the lighting in the room and ensure that you are visible to the interviewer during a one-way video interview.
Consider using headphones to get rid of the background noise.
Prepare a backup plan, such as having a phone number to call the interviewer or having a backup device or location available.

All these video interview tips will help you to avoid any technical issues that could impact the quality of the interview.

Set the mood

Setting the right mood before a video interview can help you feel more relaxed, confident, and focused while hiring.Ensure you have a quiet and distraction-free environment for your on-demand video interview. Find a well-lit place to sit comfortably and have a professional-looking background. Dress professionally from head to toe before the interview. That will help you feel confident and prepared. Take a few deep breaths to calm your nerves, focus your mind, and control body language (eye contact, hands, and good posture). You can also do some stretching or light exercises to release any tension in your body. Review any notes you've prepared for the interview, including your resume, cover letter, and any other documents you may need. Visualize yourself succeeding in the interview. Imagine answering the interview questions confidently and impressing the hiring manager with your knowledge and skills. Log into the on-demand video interview platform early to ensure you have ample time to troubleshoot any technical issues that may arise.

Dress for success

Dressing in a professional way is essential even though you are video interviewing from home. That means wearing business attire from head to toe. Avoid wearing pajama pants or shorts, as you may need to stand up during the interview. Solid colors work best for video interviews, as patterns and stripes can be distracting on camera. Neutral colors such as black, navy, gray, and white are good options. Make sure your complete clothing is clean and ironed for an interview. Pay attention to small details such as your hair, makeup, and accessories. Dress for the role you are interviewing for. For example, you should wear a suit if you're video interviewing for a management position. On the other hand, if you're interviewing for a more entry-level position, you may be able to dress slightly more casually.

Set the stage for a distraction-free video interview
Choose a quiet room where you can close the door and minimize external noise. Avoid areas where other humans are likely to walk in or make noise.

Test your equipment , such as your camera, microphone, and internet connection, to ensure they work as they should, and you will definitely hear everything. Make sure your laptop is fully charged and ready for remote work.
Close any unnecessary applications and windows on your computer to minimize distractions during the on-demand interviews. Turn off notifications for your email, messaging, and social media apps.
Ensure your background is clean and uncluttered. Avoid having anything behind you that could be distracting or unprofessional. You can use a virtual background if you are uncomfortable with your surroundings.
Complete your urgent tasks and inform anyone in your home or around you that you will be in a video interview and ask them not to disturb you during the process.
Have a glass of water nearby if you need to drink.
Thus, you can set the stage for a distraction-free environment and focus on the on-demand interviews, presenting yourself in the best possible way.
Research the company and practice your answers

Visit the company's website and learn as much as possible about its products or services, mission statement, values, and culture. Check out the social media profiles and search for news articles or press releases about the company. Ensure you understand the job requirements and responsibilities in the job description. Think about how your skills and experiences align with the position and how you can contribute to the company's goals. Do your best to demonstrate your authentic self. Write down a list of common interview questions . Be prepared to speak about your strengths, weaknesses, achievements, and challenges you've overcome with the recruiter or hiring manager. Think about the specific example that will demonstrate your skills and experiences. Practice your answers with a friend or family member. It will help you feel more comfortable answering questions and give you feedback on your responses. Structure your words using the STAR method (Situation, Task, Action, Result). That will help you provide a clear and concise answer. Next, prepare a list of questions to ask the recruiter or hiring manager about the company or the position. It will show you are interested in the job. Be aware of your resume if you need to clarify some aspects.
On-Demand Video Interview: Make Video Interviews Work for You Using Playhunt
Playhunt is an innovative online platform that makes video interviews work for you. Here you can conduct on-demand video interviews with candidates from all over the world at any time that suits the recruiter.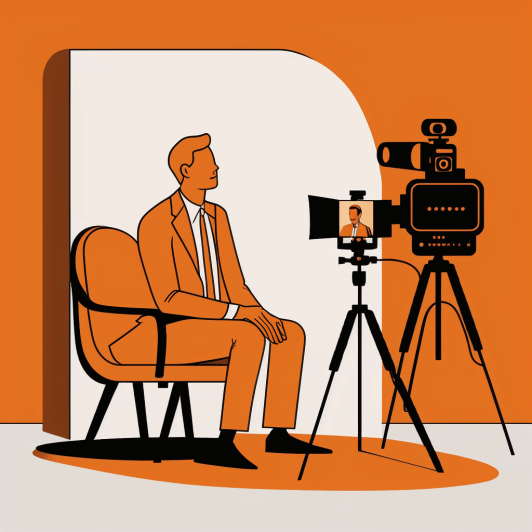 Here are some advantages of using Playhunt for your on-demand interviews:
Playhunt allows you to watch recorded interviews at your convenience. This means you can watch the asynchronous interviews on your own time and pause or rewind the video if needed.
This solution will be helpful for HR to screen multiple choices of candidates in a short amount of time. This helps the hiring manager quickly identify the most qualified candidates via personal experience and Artificial Intelligence.
Playhunt eliminates travel expenses and saves money on hiring and training new employees.
Creating a job post and receiving applications on Playhunt is also easy for a company. You can make an offer to hire a specialist in just a few clicks and start receiving applications immediately in the same way.
Candidates can easily apply for your job post using their Playhunt account. You can review their applications and schedule video interviews directly from the platform without needing additional options to answer them.
Overall, Playhunt is an excellent solution for businesses looking to streamline their recruitment process and make a video interview work for them.
It's easy to use, cost-effective, convenient, and flexible way to screen and interview candidates.
Thus, create a Playhunt account today and start taking advantage of all the benefits it has to offer.