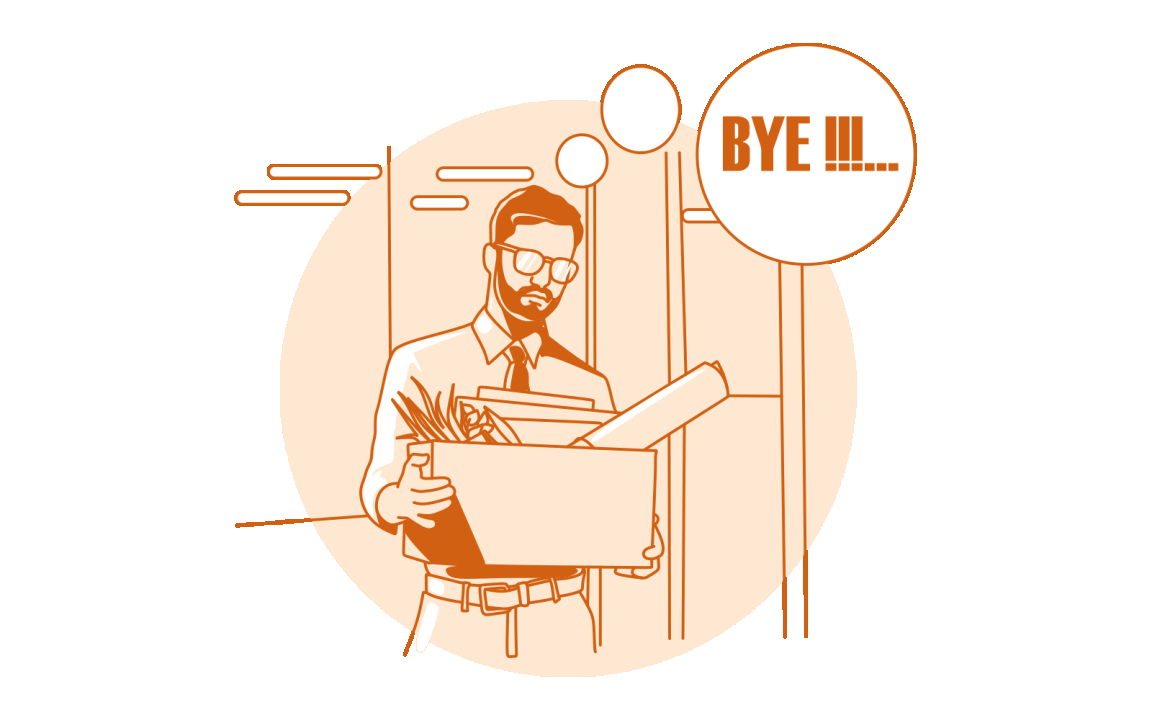 A high turnover rate is every HR manager's nightmare. They spend dozens of hours in endless circles of hiring processes with no results. Still, this obstacle is inevitable for each business to know the real value of the right hires.
Research from the Work Institute Report forecasts that nearly 35% of workers will quit their jobs to find a better place to work every year by 2023. Such a high turnover rate of employees inevitably has a negative impact on the companies, like loss of experienced staff or huge expenses for the recruiting and hiring processes. However, every cloud has a silver lining.
Why does your company have a high turnover rate?
A good leader is just as crucial as any other employee. Unfortunately, while some prefer strict managers and see pressure tactics as a source of their motivation, more than 11% of staff consider such behavior as a reason to leave. Ioatwork.com says, that workers also leave companies due to a lack of manager engagement in the working process and overuse of micromanagement.
A Harvard Business Review research suggests that 9 out of 10 people would change their jobs for more meaningful ones despite the decrease in payment. People don't want to spend a huge part of their lives only for their bosses to get richer.
They'd like to see what years of their work bring to the world: help others to stay safe and sound, educate the new generation, or improve the everyday life of millions. Moreover, even for the most finance-driven generation, millennials, having a sense of purpose is more important than money(due to theguardian.com research).
Not sufficient compensation and benefits
Besides having a job with a deep purpose, people still work to earn enough money for a comfortable life. No matter how much you might like your boss or enjoy spending time with your colleagues, you wouldn't like to get a couple of cents after working there for several years. Additionally, as much as a high salary matters benefits beyond payment matter even more. This includes paid time off, medical insurance, training, and tuition discounts.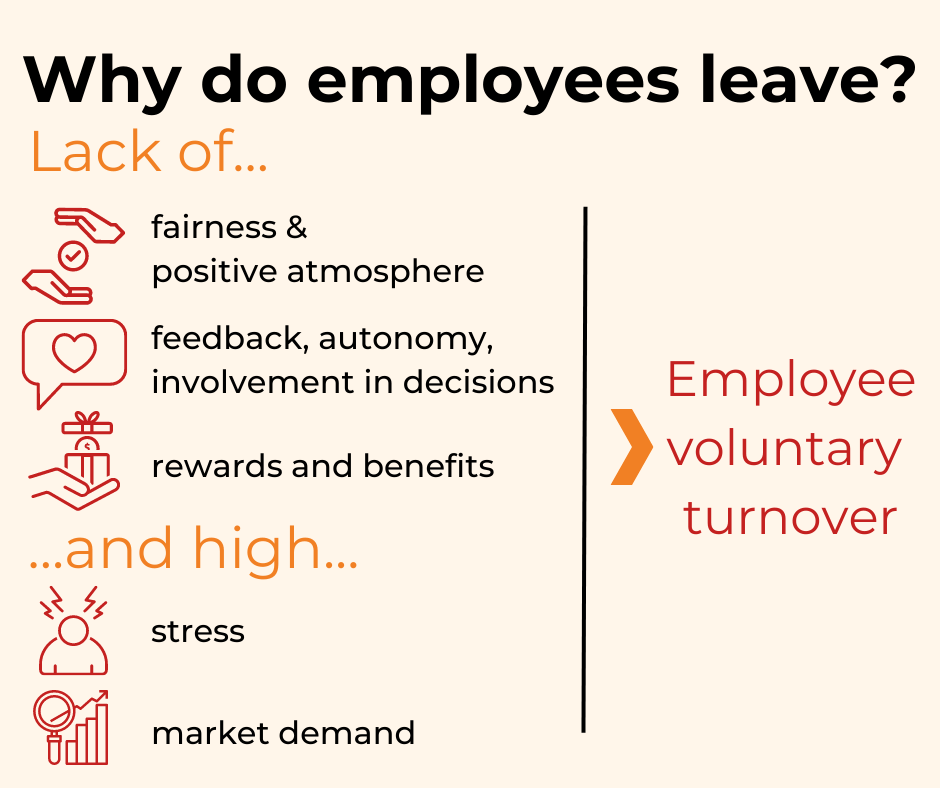 No company intends to create an inhospitable environment for its employees. Yet, 25% of American workers dread going to work due to the organization's bad culture. By shrm.org, more than half of them say their managers are the reason for such a situation. The leaders are responsible for creating a positive atmosphere by keeping an eye on holding employees responsible for their actions and paying attention to possible problems.
Hrexecutive.com claims, that more than a quarter of employees working for a company that doesn't provide a sufficient work-life balance consider leaving their job in the next two years. On the contrary, only 17% would do the same despite being supported.
Companies that benefit the most in a contemporary competitive environment are the ones that can provide their employees with flexible working hours and benefits such as maternity and paternity leave.
How does the high turnover rate negatively affect your company?
On average the replacement of a worker costs from one-half to two times the annual salary of an employee. Why is the price that high? First of all, it includes hiring, advertising, and interviewing expenses. Paying a recruiter, spending money on traveling for candidate interviews, and covering the expenses of the relocation doesn't always result in a permanent employee.
Besides direct costs of hiring and training, there are indirect losses caused by an employee's leave. Decreases in overall productivity and engagement are among those unnoticeable results.
As stated above, a high turnover rate affects productivity and leads to financial loss. Less experienced workers produce fewer outcomes. In certain cases, it may take them weeks of training before they become productive. Moreover, you might ask one of your best employees to do the training thus making them spend less time doing the actual work.
The loss of skilled workers
Every time an employee leaves a company, knowledge goes with them. According to recent hrdailyadvisor.blr.com research, on average 42% of knowledge necessary for a particular position belongs only to the person holding that position.
If such a person leaves the company without providing training previously, the new position holder will spend up to 200 hours of inefficient work gaining that knowledge. In addition, the skilled employee might leave to work for competitors thus causing even more damage to the company they left.
What are the positive aspects of the high turnover rate?
If some employers see their glass half empty, others make use of the full half. Striving for a low turnover rate is great. But what can an employer do while working on the problem? Let's try and find positive moments in the fast change of workers.
Hiring a new employee might bring a new point of view to your projects, indicating things are obvious for a newcomer. Also, this seemingly challenging process will diversify your workplace with varying ages, ethnicity, and gender. As Rasmussen University research suggests, hiring millennials will benefit in gaining resourceful and eager-to-learn workers.
An employee's leave paves the way for a more suitable but less skilled worker. Yes, you still need some time for the productivity level of a newcomer to increase and bring more profit to the company. Nevertheless, it's still better than having more skilled but unsuitable employees.
Meanwhile, if a less experienced worker gets paid less than their predecessor, the difference in salary could be spent on providing benefits for all the employees.
Chance to improve the workplace environment
As stated above, more than a quarter of workers consider leaving because of the working environment. An unpleasant or rude employee may force their colleagues to look for another place to work at. For a manager, the removal of a "bad actor" means not having to deal with employee and customer complaints.
How to tackle this problem?
A Work Institute report claims that 78% of resignation cases can be prevented. As a result, more and more companies are now prioritizing the improvement of employee retention techniques. When working on ways of stopping employees from leaving it is more desirable to work on reasons for them to stay with the company.
Mastering the screening process
One of the latest trends in HR tools is the use of video surveys. Video screening allows employers to make the process of hiring more efficient and less time-consuming. Asking questions beyond previous job experience and skills helps to get a better idea of a candidate's personality, which is not the least important factor in a company's productivity.
The benefit of using video surveys is that employers can watch pre-recorded employee videos at any moment available without scheduling in-person interviews.
Finding out what employees appreciate the most
According to the FinancesOnline research, the most valued factors in job satisfaction are commute to work (60%), the people at work (60%), interest in work (59.9%), the physical environment (59.3%), and job security (59.2%).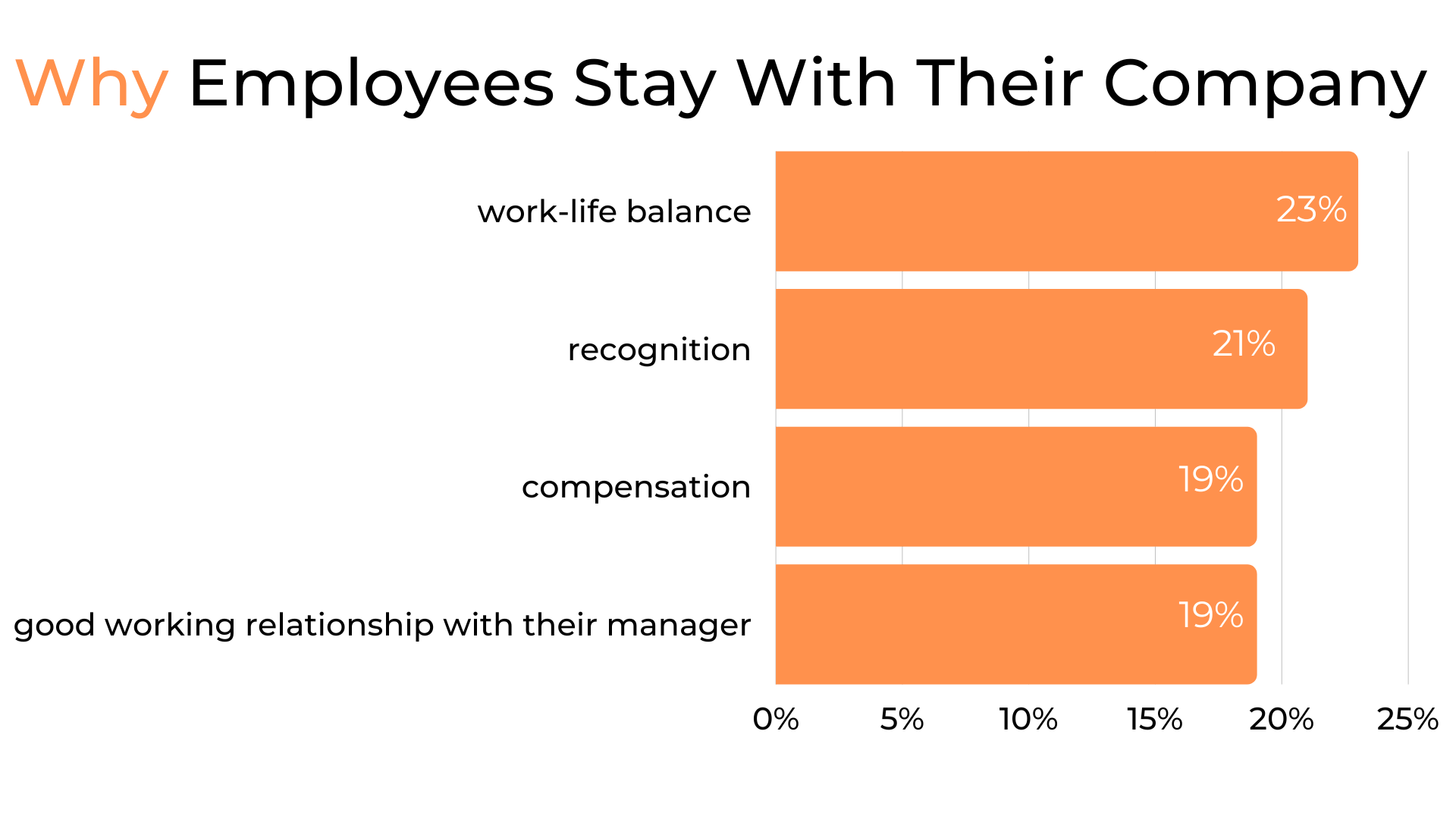 Given the statistics, employers should pay close attention to their workers' needs and provide them with flexible schedules as well as working environments, such as working from home. It goes without saying that medical insurance and paid sick leave will improve staff retention and conducting various training sessions will improve the overall workplace environment.
Employees are the wheels that make a business run. Without careful analysis, no ratio can help to understand if the company's turnover rate is "bad" or "good".
Smart management compares the turnover rate to the overall production and profitability goals and implements necessary actions. While some of them work, others don't make any changes. After all, as James Joyce said, mistakes are portals of discovery.