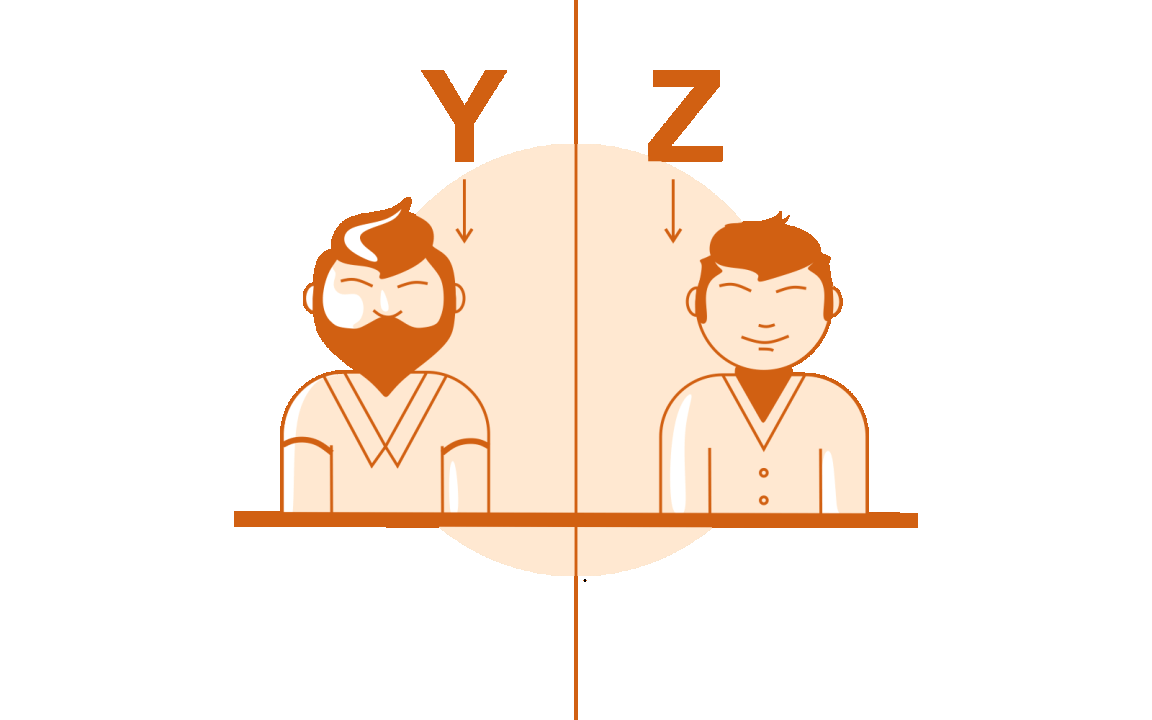 Millennials and Zoomers are favorite generations of researchers and studies. Thanks to salesforce study, we know that 76% of Millennials are ready to pay more for great customer experiences. Meanwhile, we are also aware that 55% of Gen Z is fond of new products and services.
What is especially important for the HR sphere is that the recent Deloitte Millennial Survey forecasts that Millennials and Zoomers will make 75% of the global workforce by 2025. That's why companies should be specially prepared and aware of how to hire Millennials and Zoomers.
These two generations might seem similar as both of them are young and have a lot in common. However, they still differ in many ways, the main of which is their age. Depending on different sources, Millennials are people born between 1980 and 1995 or 1996. Zoomers members are those born between 1996 or 1997 and the early-mid 2000s (from 2012 to 2015).
Most importantly, the significant differences between these generations are obvious in all stages of recruitment. In this article, we prepared six main things companies should pay attention to if they aim to hire top talent among these generations.
Where to find candidates?
Common: the most popular source for both generations is to search for new candidates through recommendations from acquaintances (employee referrals), as this is the most trustworthy way to get a job that meets all their expectations.
Millennials: are easier to find on job boards.
Zoomers: prefers hiring events and college collaboration. There is a huge chance you can meet your perfect Generation Z candidate on campus.
What is crucial to offer?
Common: both generations have two crucial factors when accepting a job offer: salary and work-life balance.
Millennials: look for growth opportunities and jobs where they can have more social impact and make a significant contribution.
Zoomers: the most important things they would pay more attention to are their projects, job duties, and personal values.
Company brand – what are you expected to be?
Common: every candidate would do a great job during online research about your company.
Millennials: are more likely to pay attention to what previous and current employees talk about their working experience there.
Zoomers: mostly trusts the website, especially checking how relevant the page with job opportunities looks.
Compensation & Benefits: do they need the same?
Common: all the generations are only people, so when it comes to C&B, both of them wait for medical insurance, paid time-offs, and retirement savings.
Millennials: are always looking for bonus incentives, so you can start creating a list of benefits for them right now.
Zoomers: would expect to have students loans repayment assistants, maternity and paternity leave.
Company Culture
Common: both generations are totally digitized, so social media is an excellent tool to show the power of your brand and your team's life.
Millennials: their primary values are transparency and authenticity, so the review page on your social networks plays an important role.
Zoomers: looks for innovation and speed tech-solution, that's why your company's technologies are something that can interest Zoomers
Bonus: Always be quick
Both Millennials and Zoomers would agree that a fast recruitment process is what they expect. Nowadays, both generations choose email communication, but it's also becoming more and more popular to use chats. You should always be in touch with them. However, be careful as the age of phone communication is no longer the right way to attract either Millennials or Zoomers.
At work, Millennials and Zoomers Generation have a lot in common: they have similar values and expect similar approaches. But pretty similar is never the same. The only way to hunt top talent among these two generations is to dive deeply, analyze, and see not similarities but differences. This is the only possible way to put the right accents at all stages: from creating a job description to sending the offer.