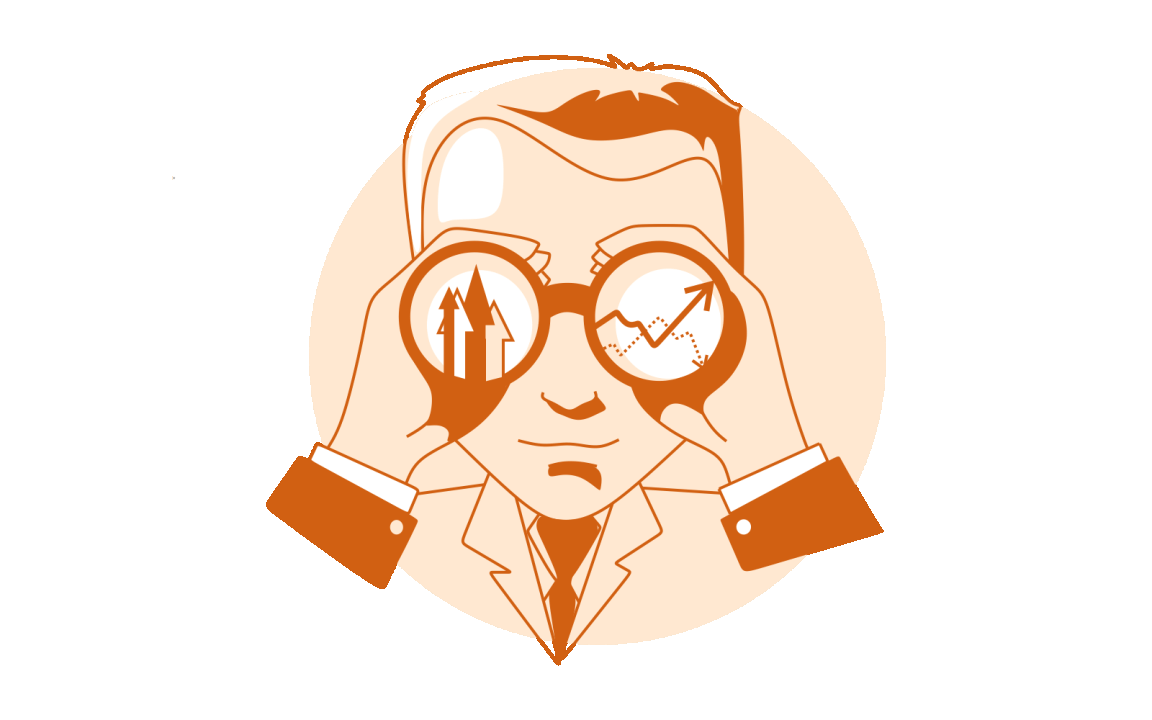 Do you feel like the recruiting trends change too fast nowadays? As soon as you get used to one, three new ones have already appeared. Job hunters need to adapt to such a fast-changing society and implement new technologies. If you want to stay up to date with the latest recruiting trends, read this article and check how relevant your strategies are.
Adaptation to new generations
Allegis states that by 2025 Millennials and Zoomers will make up 75% of the global workforce. It means, hiring them has become a new reality. This, in turn, leads to recruiters' need to adapt to new techniques for hiring these generations.
In a study, conducted by Deloitte Global, 44% of Millennials and 49% of Gen Zs pointed out that they choose organizations they'd work for based on personal ethics. Yello recruiting study states that both generations expect basic employee benefits: medical insurance, paid time off, and retirement savings. Listing these benefits in job postings would let them know immediately if you match their expectations.
Moreover, one of these generations' inherent skills is technology. That's why you should make sure your company is tech-savvy before you recruit these generations. Your job application should be mobile-friendly and the workplace should be equipped with modern tech. Additionally, using software that is older than your employees is probably not going to make your company more attractive.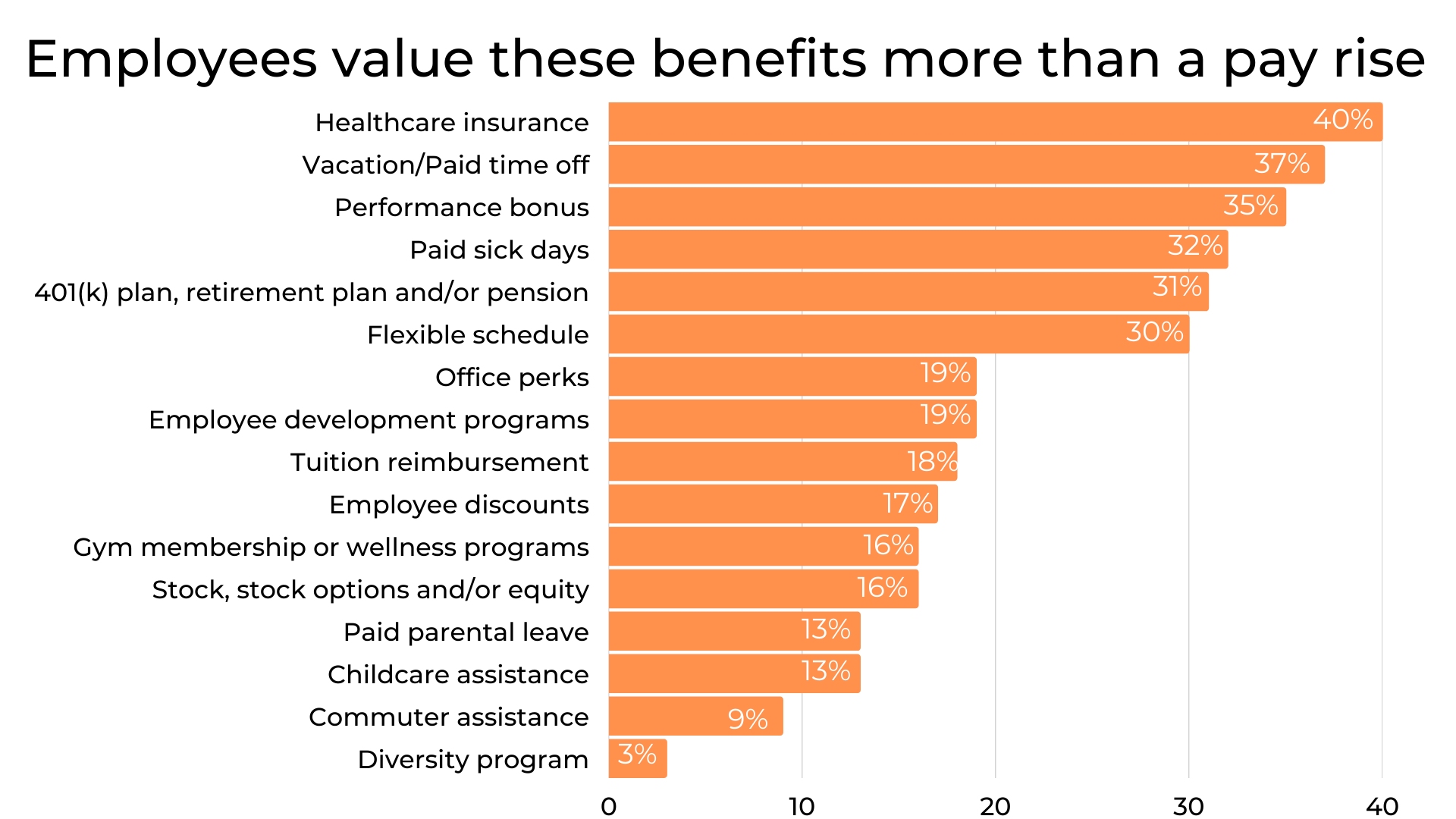 The use of AI
AI is no longer a novelty in such areas as IT with its AI-assisted development. There are many corporations that are already using it. However, medium and small companies still hesitate to implement it or have a certain bias. By doing this, they miss out a lot because this technology is easier and more affordable than it looks. Ideal's study suggests that a single hire takes up to 23 hours, which includes resume screening and candidate interviews. The reason for it being that time-consuming is that 75% to 88% of resumes are unqualified for the position.
The benefit of using AI for recruiting is that it can carry out such repetitive and time-consuming tasks as resume screening, selecting candidates according to your criteria, and scheduling interviews. If hiring 1 candidate takes 23 hours, 10 candidates would take 230 hours or 9.5 days. By using AI you can save almost ten days of your life.
Moreover, the implementation of AI reduces bias during screening and speeds up the hiring process. Also, a recruiter chatbot, as a part of AI, helps you quickly respond to candidate messages without interrupting your workflow. Besides complex chatbots that analyze loads of data, there are also simple ones that you can set up without programming knowledge.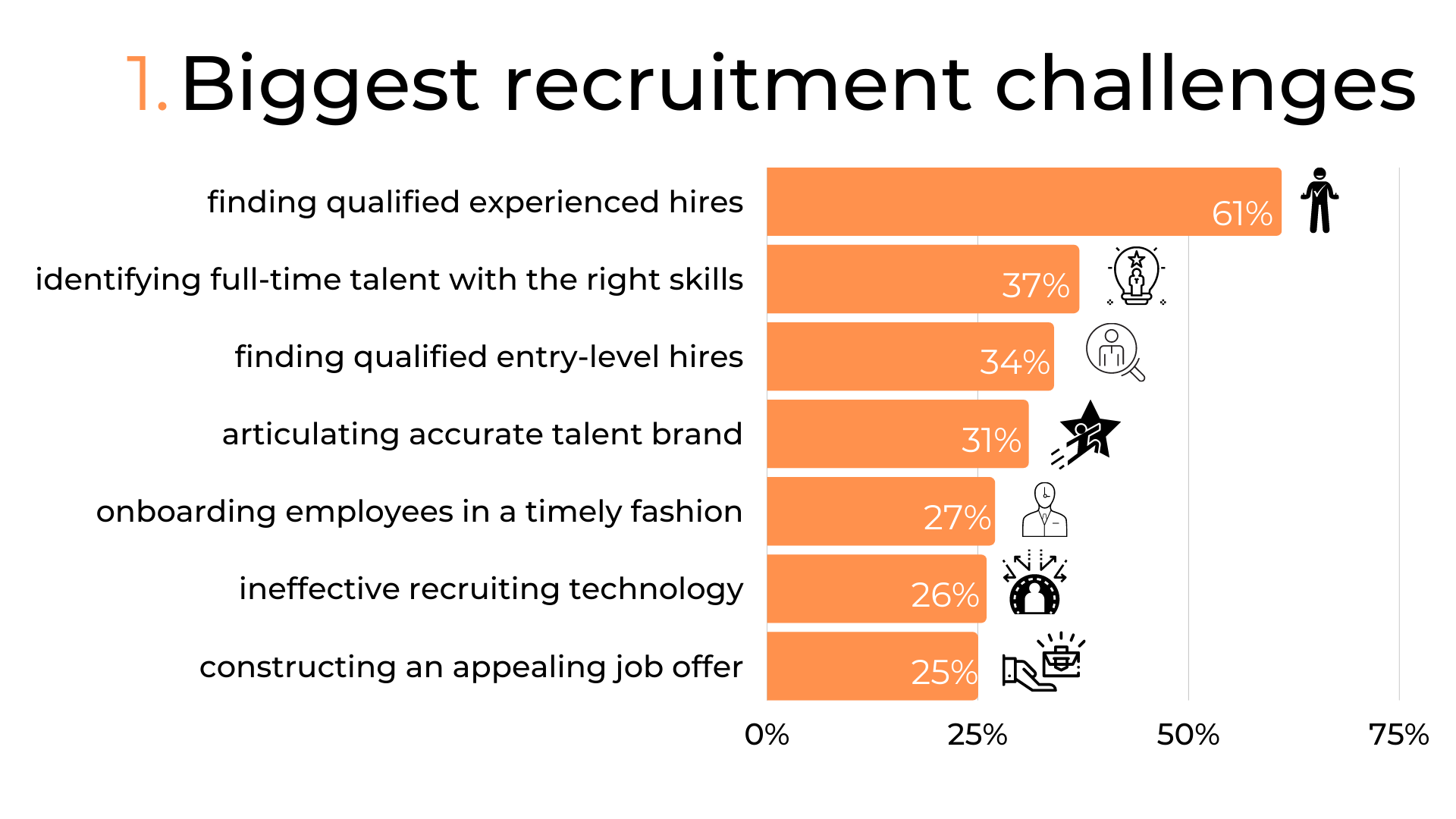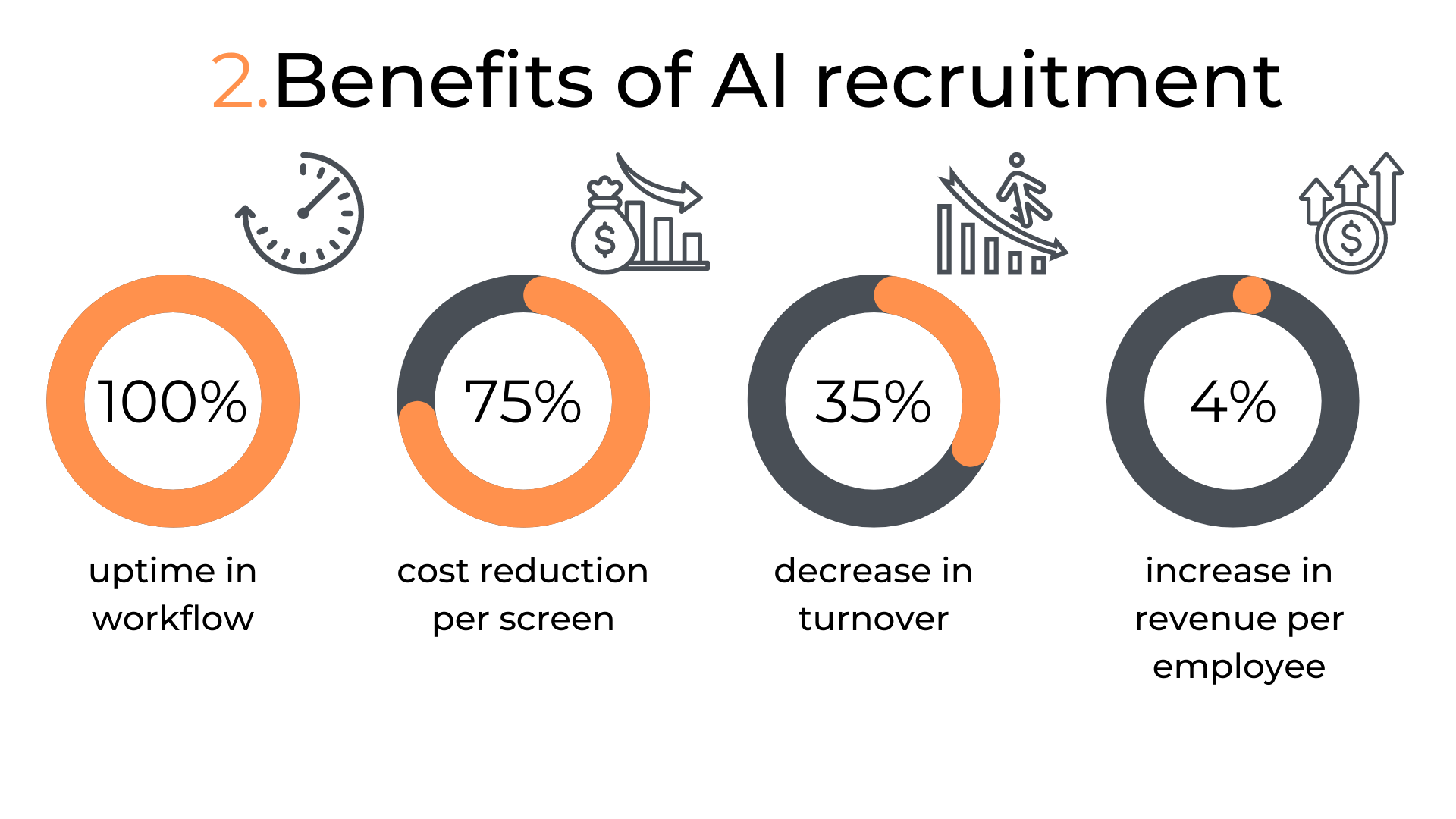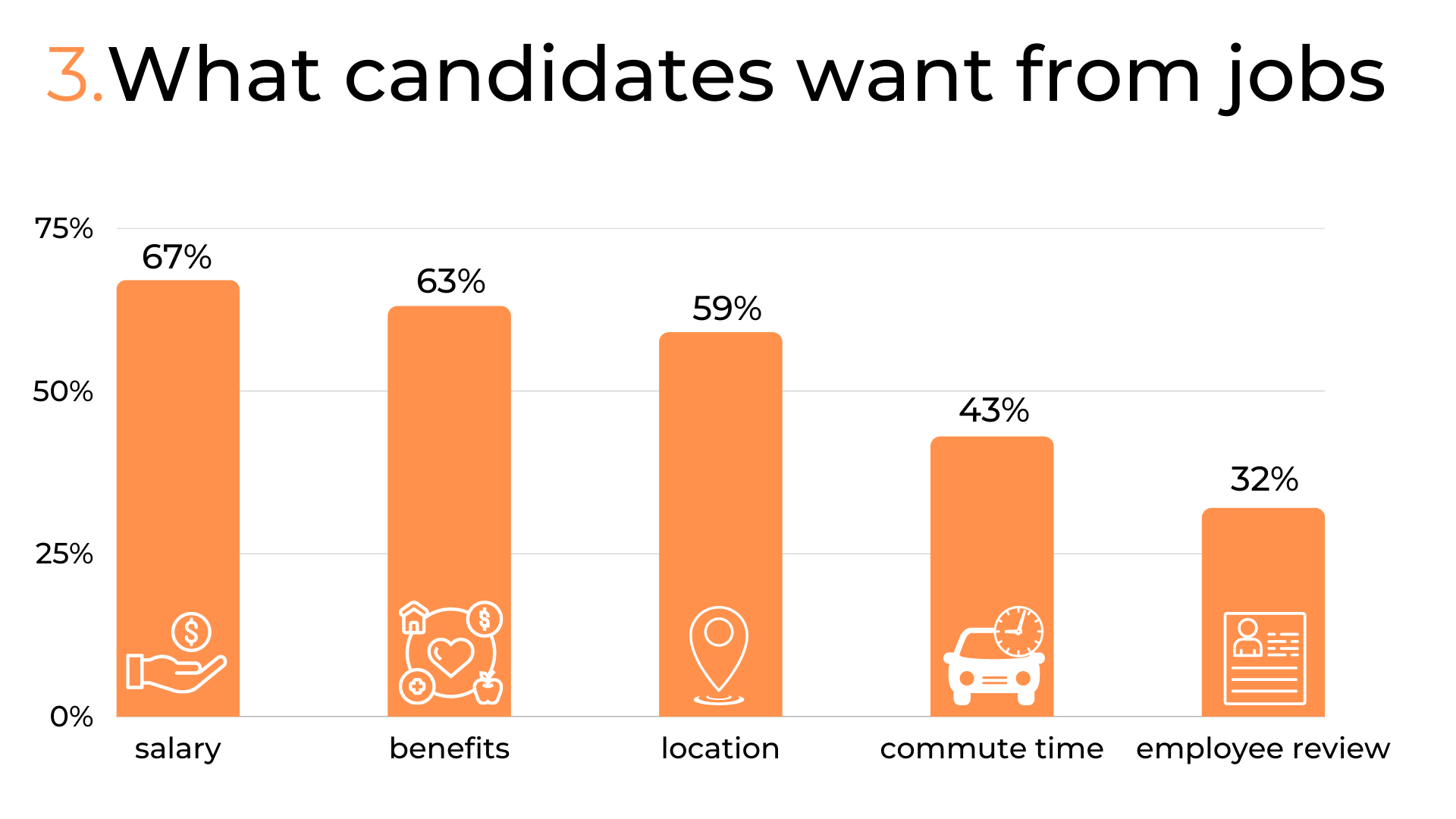 Remote hiring
Before 2020, most companies that worked remotely with their teams were tech and insurance companies. However, the pandemic has changed it. Except for essential workers, almost every industry employee was forced to work from home. This, in turn, has led to the next logical step — remote recruiting strategies.
Many companies are full of applicants' resumes, so it's especially challenging for them to find the best fit. Here are two ways to succeed in that. Firstly, use AI-powered resume screening software that automatically sorts out unqualified resumes. By using customizable filters it picks those resumes that meet your requirements. While AI significantly speeds up the screening process, there isn't any guarantee that the candidate will suit your company. Trusting resumes fully isn't a good idea. In fact, 80% of companies feel they were misled by a candidate's resume information.
That's why it's a great solution to use one more tool — a video interview. It increases your chances of hiring the right people as it provides you with a deeper knowledge of candidates' skills and expertise. You can create specific video interview questions, so you'll have a chance to find out more about job seekers' personality traits or industry knowledge.
Moreover, you might use this tool as an additional video resume, or go further and ask your candidates to solve tasks. This way you can assess the knowledge of the candidate as well as their personality and way of thinking. In some ways, this HR tool makes remote hiring even better than hiring in-person.
Social media recruitment
Betterteam states that 59% of employees named their company's social media presence as one of the reasons for choosing it. Moreover, using social media sites is a way of keeping your company visible and popular. Here's how you can use social networks in your recruitment process:
Host live Q&A sessions on Instagram or Periscope to connect with your applicants. Don't forget to set a date and promote it on social media so your followers don't miss the stream. Moreover, let all those who are interested know that they can send their questions beforehand to make sure you answer them. Finally, broadcast your company's events to share more information about your culture.
Speaking of the company's culture, what's the best way of promoting it if not your own employees? Your team can share their experience of working for you by posting their honest reviews about workplace culture. It would be even more convincing as 52% of people trust an employee rather than a CEO.
Every platform has its pros and cons. However, using several of them significantly increases your chances of finding a talented candidate. Also note that to use them effectively, you need to post consistently. That's why too many platforms could be a disadvantage.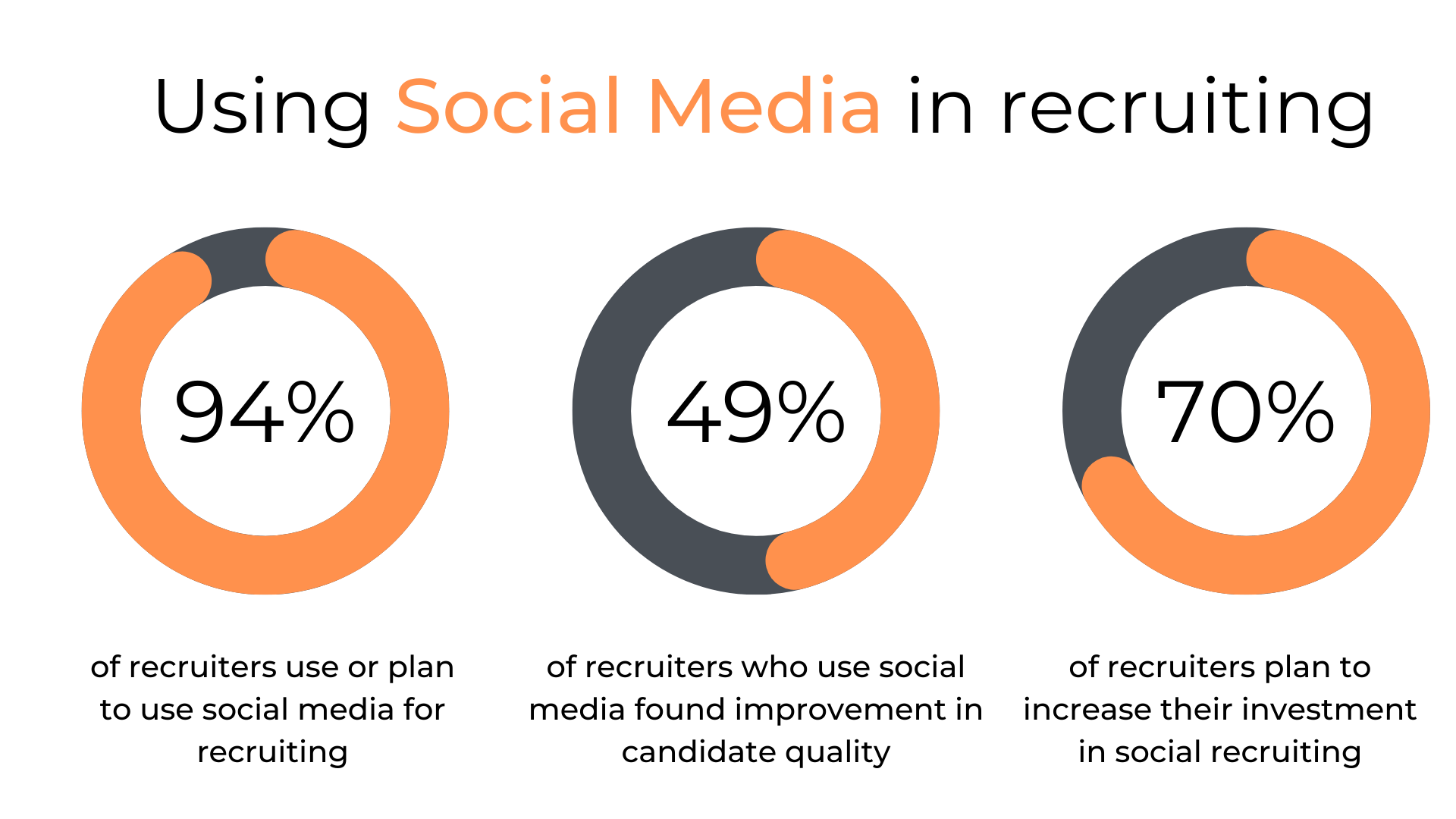 Multiple platforms
An omnichannel approach to recruiting means using several ways of attracting candidates. This approach increases the chances of hiring the most professional employees for your company. According to Google research, users of several devices switch between 3 of them in a day. For recruiters, it means more opportunities to be seen by their perfect match.
However, omnichannel recruitment doesn't mean just using different social media platforms. It is a combination of both online and offline tools. Besides looking for applicants on Facebook and LinkedIn, job hunters should make use of hiring events, referral systems, and job boards.
Don't hesitate to use platforms that none of the companies used before. For instance, Mcdonald's was the first to use Snapchat for recruiting. Its team analyzed the Canadian Snapchat audience and found that out of 12 million users, 80% are Millennials. This demographic is exactly McDonald's' workforce. The applicants were able to use Snapchat's 30-second video resumes and share them directly to the company's hiring portal.
Moreover, don't forget to use your website. Create a section with job openings and list your requirements. There the applicant can also find the needed information about your company. And most importantly, you can add your website link to your social media accounts and post it on career sites.
Conclusion
To stand out in this highly competitive industry, a recruiter needs to think forward and keep up to date. Implementing the strategies described in this article is not a 100% guarantee of a successful hire. Some of them would work better for your company, some may not. And what's the best way of checking if not trying it yourself?